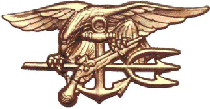 LCDR Rock Edward Blais (SEAL)

June 17, 1961 - August 30, 2001
Birthplace: Norfolk, Virginia
Resided In: Virginia Beach VA USA
Service: September 06, 2001
Cemetery: Hampton National Cemetery

Lieutenant Commander Rock Edward Blais, of Virginia Beach, a US Navy SEAL and member of the United States Special Operations Command Parachute Team "The LeapFrogs" died on Thursday, August 30th, 2001 from complications after being injured while parachuting into Raymond James Stadium in Tampa, Florida, where he was stationed.
LCDR Blais was a Naval Officer and SEAL for over 13 years. A few highlights of his numerous military accomplishments include over 1000 parachute jumps, three Navy Commendation Medals, the Joint Service Achievement Medal, and a Navy Achievement Medal.
Lieutenant Commander Blais' passing was preceded by the death of his mother, Florence and the recent death of his infant daughter, Aubrey. Survivors include his wife, Hollie; his son and daughter, Scott and Kathryn of New York; his father, Master Chief Thomas Blais (US Navy Seal-Ret.) and sisters, Maria Goodman and Eva Anderson, all of Virginia.
Memorial services will be held at the Little Creek Amphibious Base Chapel, Norfolk, Virginia at 10:00am on September 6, 2001. Any donations can be made to the Naval Special Warfare Foundation, the Warrior Foundation or Hygeia Foundation, Inc. (neonatal care and research)
.

NavyFrogman.Com
LeapFrog Training
Navy LeapFrogs Support Navy Recruiting
Leap Frog Skydiving Accidents
Roger Louie LeapFrog Pictures
The other military Skydiving Team
Navy LeapFrog Video
SpecialOperations.com
Wrong Turn Kills Skydiver
UDT-SEAL Museum Ft. Pierce FL
Lessons on Skydiving Accidents
Safety News and Deaths DROPZONE
SkyDive Suffock VA