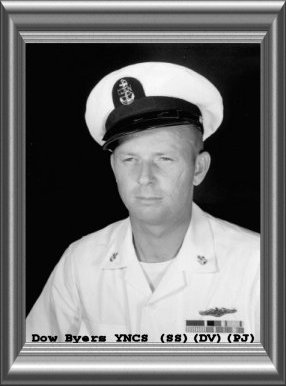 IN LOVING MEMORY TO MY BEST FRIEND
DOW F. BYERS
YNCS (DV)(PJ) SS
1931 - 1990

In 1990, after we attended Rudy Boesch's retirement ceremony, and a tour of Disney World, Lourdes, Mandy (grandaughter) and I visited the Byers in Brooksville FL.
Dow looked great, seemed very very happy and was spending much of his time painting, and tending to his horses at his ranch. We talked about old times at UWSS, and at Little Creek. Dow was retired from US Navy, and also from Old Dominion University where he was the Chief of the Security Department. He employed several retired SEALs and had a successful second career there. John Francis Rabbitt, Dow's very best friend, went to Dow's funeral along with their friend a BMC that worked with them at the Old Dominion University. We did not get to see his remains because Byers was cremated. I understand his son David took his ashes and scattered them in the Gulf of Mexico.
He was living with Annise (wife), Terry(daughter), David (his son), and Bevin Richards (his grandaughter) in Brooksville, FL. when he met his untimely demise.
He was found many hours after his fatal CVA by his children. He was cremated and his ashes were scattered over the ocean by his son David Byers. Attending his family gathering after his death were his sole survirors: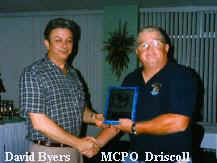 taken 1998 FO UWSS 1st Reunion
Marijeane Buers-Perry, Dan Perry and Kristen Perry
Terry Anne Byers-Richards, Dennis Richards, and Bevin Richards
Becky Byers-Menendez, CDR Jack Menendez, Velika, and Jamie.
David Byers, Cheryl Byers, Christopher Byers, and Jennifer Byers
Guests were: John Francis Rabbitt
Erasmo "Doc" Riojas and Lourdes Tolentino
CPO (Ret) his friend from Old Dominion came with Johnny Rabbitt, sorry, his name escapes my memory.
Annice B. Byers resides with her daughter Marijeane Perry in Pride, LA. 70770
Dow may you Rest in Peace in heaven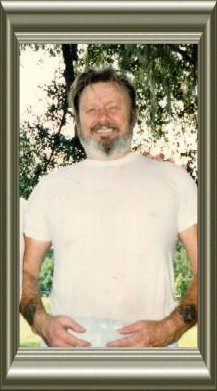 Webmaster: elticitl@mi-vida-loca.com - Copyright ©1998 - All Right Reserved